As you all know that Lord Ganesha is the son of Lord Shiva and Ma Parvati and that is why Ganesh Rudraksha has the blessings of both Shiva and Shakti.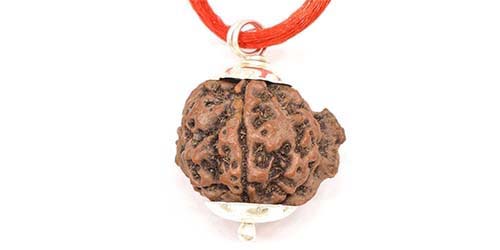 Original, Pure and Lab Certified Ganesha Rudraksha Pendant starting from just ₹699/-
Ganesha Rudraksha Benefits
It is capable of removing the hurdles and obstacles from the wearer's life.
The wearer of an Original Ganesha Rudraksha is liberated from all kinds of spectral problems.
Ruling God: Ganesha
How to test its authenticity?
As per MahaShivPuran, the only real way of testing whether a Ganesha Rudraksha is original or not is to cut the bead in half from the middle and count the number of compartments inside. It should match the number of Mukhs outside so an original 5 mukhi ganesh will have just 5 compartments inside but with today's technology, we don't need to cut the bead. Same result can be obtained with X-Ray. That is why we get all our Ganesh Rudraksha beads and malas tested from an independent lab. They test all the beads under X-Ray and you will get the lab certificate along with every bead and mala.
There are many "tests" mentioned online but none of them are completely accurate. For Ex – it is said that a natural bead will sink in water whereas a fake bead will float in water. This can't be further from the truth as a natural bead with air & moisture inside will float in water whereas if you put just a tiny drop of any heavy metal like lead inside a fake hand crafted Ganesha Rudraksha , it will sink in water. So the only sure way of knowing whether the bead is genuine or not is an X-ray from an independent lab.
Who can wear it?
Anyone can wear any combination of Rudrakshas because unlike gemstones, these beads do not have any negative or side effects. Rudraksha beads are also Unisex so both men and women can wear them. Each bead has its own unique benefit so you can read Ganesha Rudraksha's benefits above or you can also click on the WhatsApp icon at the bottom right to contact us and get your Free Rudraksha Recommendation.
Mantra to wear it?
It should be worn on Monday morning after taking a bath. First wash it with milk or ganga jal. You can wear it by chanting "OM GUNG GANPATAYE NAMAH". Chant this mantra 108 times prior to wearing it. After wearing it, the wearer should recite 5 rosaries(mala) of "OM GUNG GANPATAYE NAMAH" mantra everyday to increase its effects multiple times.
What are the precautions?
The wearer should avoid eating non-veg food, alcohol and visiting cemetery while wearing Ganesha Rudraksha . If you have to then first remove the bead and place it in your place of worship and then wear it again the next day after taking a bath.
Ganesha Rudraksha Types?
It is found in two varieties – First is the Nepali variety which is a bit rare hence costs more. Second is the Indonesian variety which is available in abundance hence comes at a really low price. Nepali Rudrakshas are considered to the finest quality and the most effective beads. Nepali Ganesh are much bigger in size, have way more weight, have better quality & broad mukhs and are generally way more effective than their Indonesian counterparts. We always recommend everyone to wear Nepali Ganesha Rudraksha as the wearer will get the most benefit. Indonesian beads should only be worn as substitute if nepali beads are not available.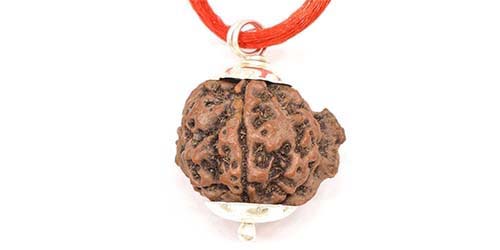 Original, Pure and Lab Certified Ganesha Rudraksha Pendant starting from just ₹699/-
हिंदी में पढ़ने के लिए क्लिक करें गणेश रुद्राक्ष |
Descriptions for products are taken from scripture, written and oral tradition. Products are not intended to diagnose, treat, cure, or prevent any disease or condition. We make no claim of supernatural effects. All items sold as curios only.
If you would like to share anything else regarding Ganesha Rudraksha then please feel free to write in the comments section below.