14 Mukhi Rudraksha is the most effective and recognized bead after round Nepali One Mukhi. This bead is considered as the symbol of Lord Hanuman who is the devotee of Lord Ram. Lord Ram is also a Rudra of Lord Shiva.
What are the benefits of 14 Mukhi Rudraksha?
14 Mukhi Rudraksha is the symbol of Lord Hanuman and comes under the planet Shani (Saturn).
Just as all the ghosts and spectrals run away by taking the name of Hanuman ji, similarly by wearing this bead , all kinds of spectral problems (upari badha) gradually start moving towards their end.
If a person is facing the ill effects of Kantak Shani or Rahu dasha in their birth chart then wearing a 14 Mukhi Rudraksha is considered as the supreme remedy for them.
One can gain respect just by touching this bead to their head everyday.
It helps in removing mental stress and also helps in making the mind more determined.
This is considered as an excellent Rudraksha for all kinds of spiritual energies and for attaining knowledge.
In the past kings used to wear this bead in their crowns. Nowadays there is no such trend so by wearing it around the neck and touching it on the forehead everyday, the wearer can get its full benefits.
Original, Pure and Lab Certified 14 Mukhi Rudraksha Pendant starting from just ₹2,999/-
What are the different types of Fourteen Mukhi Rudraksha available?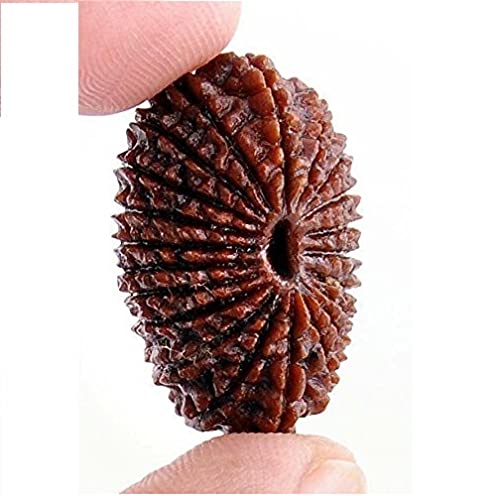 Fake Hand Made 14 Mukhi Rudraksha
First is this fake hand made 14 Mukhi Rudraksha. Fake beads don't have any seeds inside and hole in the center, you have to manually drill a hole in them.
If you look at its Mukh (faces), they are all completely straight and alike. Mukhs are the identity of a real Rudraksha. A real Rudraksha will never have all alike and completely straight faces. A natural thing will always have variations, some face will be straight and some will be curved or tilted. Some face will be raised while some will be suppressed. You will find these fake beads on many websites from Rs.4,000- Rs.5,000 to Rs.9,000 – Rs.10,000.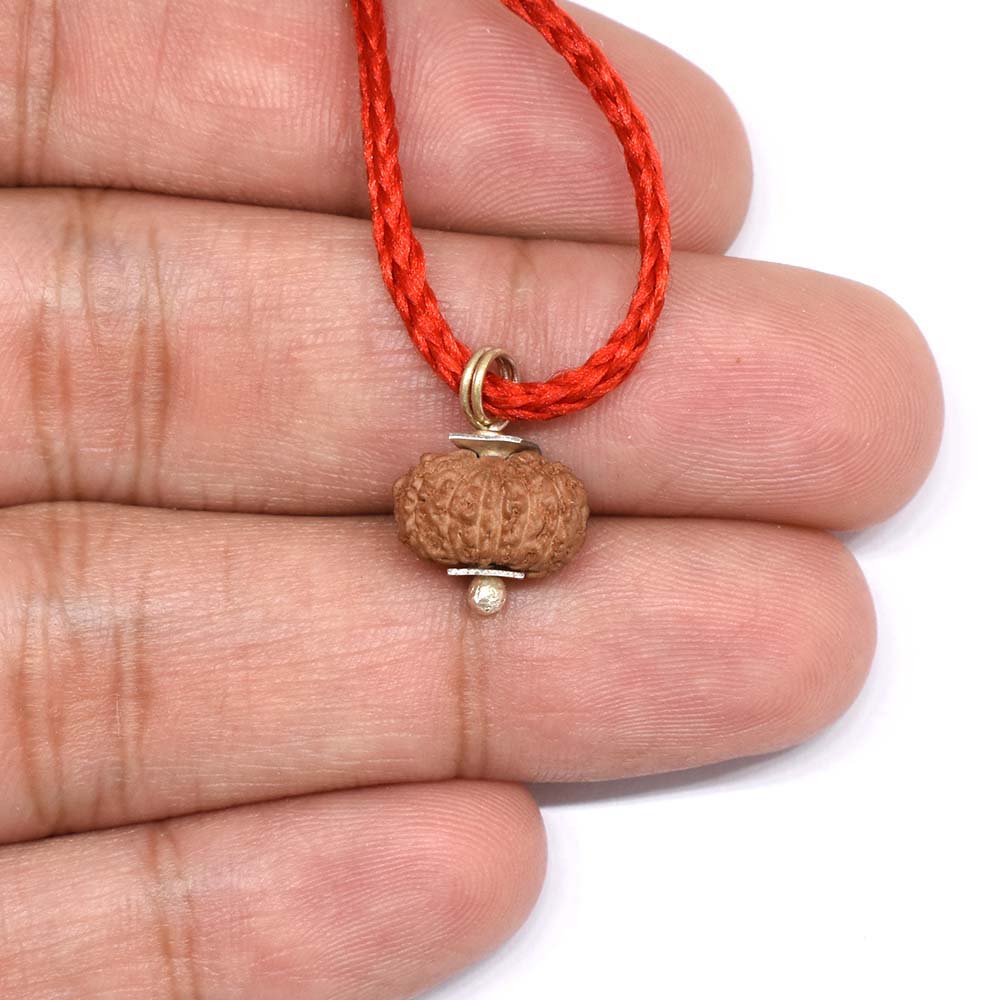 Indonesian 14 Mukhi Rudraksha
This is the Indonesian 14 Mukhi Rudraksha. Its the smallest in size and lightest in weight. The Mukhs in them are like tiny lines and these are not at all effective when compared to the Nepali beads. These have pretty low amounts of energy and that is why we never recommend you to wear a single bead, Indonesian 14 Mukhi should always be worn if Nepali bead of that Mukh is not available or you can wear it as a substitute if Nepali bead is going out of your budget but the preference should always be given to Nepali Beads.
BUY ONLY IF NEPALI 14 MUKHI RUDRAKSHA IS OUT OF YOUR BUDGET
CAN BE USED AS AN SUBSTITUTE BUT IS NOWHERE NEAR AS EFFECTIVE AS NEPALI BEADS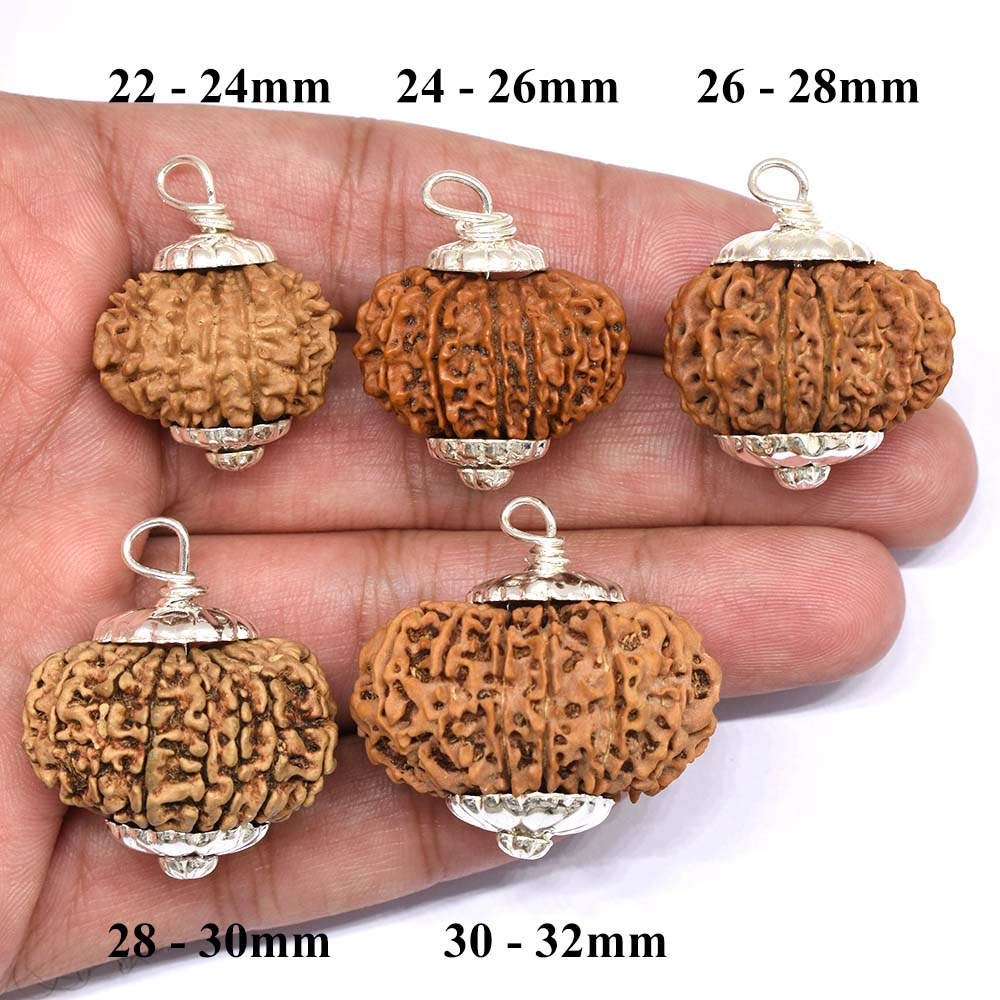 Nepali 14 Mukhi Rudraksha
Nepali beads are the most effective and they have broad mukhs and a natural hole in the center through which the bead is connected to its tree. Fake beads and Bhadraksha don't have any hole in the center, you have to manually drill a hole in them.
You will find 14 Mukhi for Rs.4,000 – Rs.5,000 on many websites. At this price you will either get a fake hand crafted bead or an Indonesian bead and that too in silver plated "metal" pendant i.e that pendant won't be in genuine silver and lab certificate won't be genuine either. I see online that there are many sellers who are using pics of Nepali bead but in reality, they will send you an Indonesian bead only. Sellers who are providing you 14 Mukhi for Rs.4,000 – Rs.5,000, their silver is fake, certificate is fake and the bead itself is either fake or Indonesian that isn't even effective. What's the point in wearing a bead that isn't even effective? Nepali 14 Mukhi comes in small to large size. At Rudra Gems you can get 22mm – 30mm size 14 Mukhi at the lowest price in the market. All our Rudraksha are made in Genuine Silver Pendant and will come with an Independent Lab Certificate.
How to test authenticity of a Rudraksha Bead?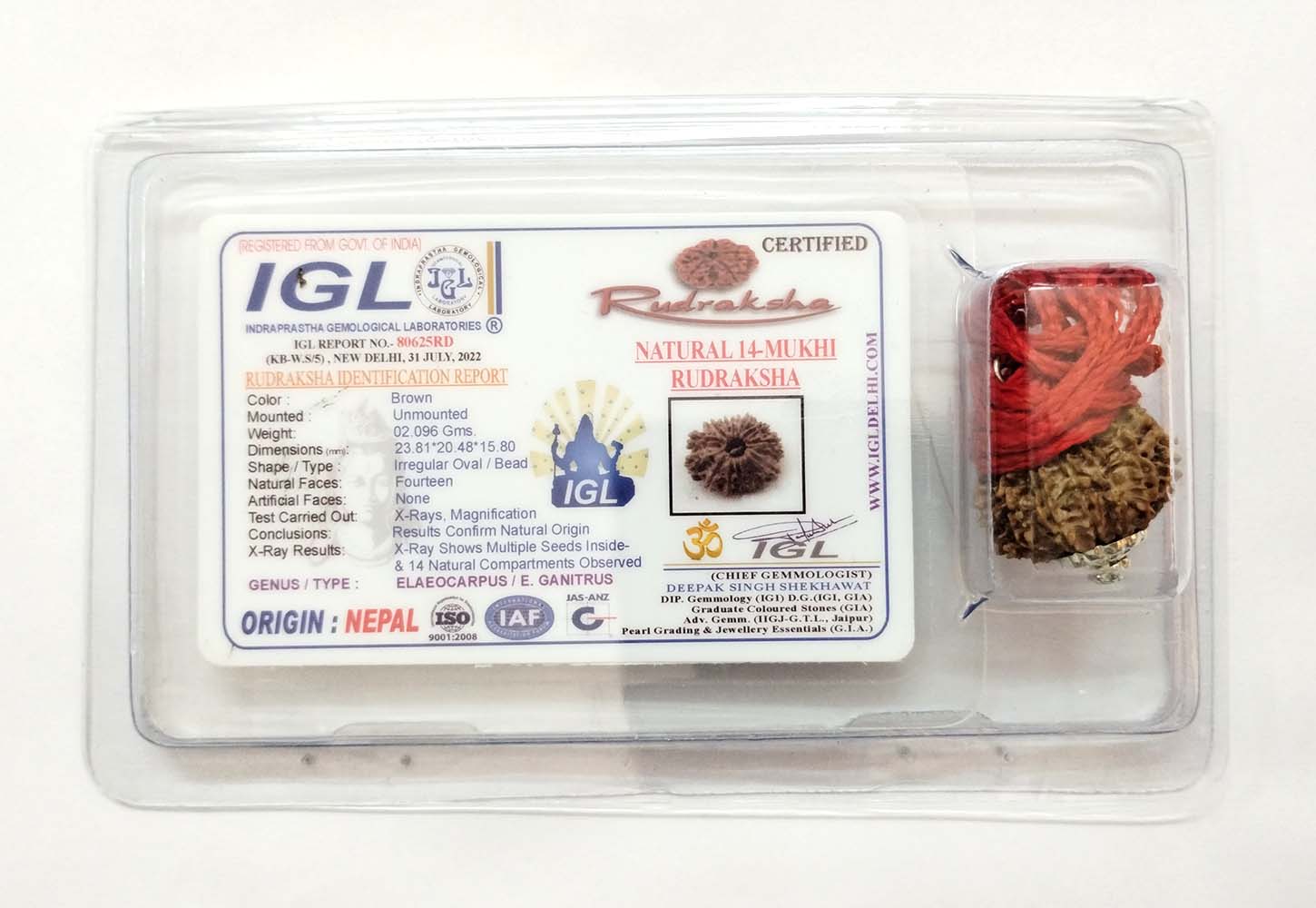 As per MahaShivPuran, the only real way of testing whether an Fourteen Mukhi is original or not is to cut the bead in half from the middle and count the number of compartments inside. It should match the number of Mukhs outside so an original Fourteen Mukhi Rudraksha will have just 14 compartments inside but with today's technology, we don't need to cut the bead. Same result can be obtained with X-Ray. That is why we get all our Fourteen Mukhi Rudraksha tested from a Govt. approved independent lab. They test all the beads under X-Ray and only after verifying that the bead has only Fourteen compartments inside do they certify it as a natural bead. You will get the lab certificate and X-Ray copy along with each of our Nepali 14 Mukhi Rudraksha.
There are many "tests" mentioned online but none of them are completely accurate. For Ex – it is said that a natural bead will sink in water whereas a fake bead will float in water. This can't be further from the truth as a natural bead with air and moisture inside will float in water whereas if you put just a tiny drop of any heavy metal like lead inside a fake hand crafted bead, it will sink in water. So the only sure way of knowing whether the bead is genuine or not is an X-ray from an independent lab.
Who can wear Fourteen Mukhi Rudraksha?
Anyone can wear any combination of Rudraksha beads because unlike gemstones, these beads do not have any negative or side effects. If you are facing a problem related to the benefits that I have mentioned above then you can surely wear the 14 Mukhi Rudraksha. Unlike gemstones you do not need to get your horoscope or rashi checked before wearing Rudraksha beads, you can just know the benefits of that bead and wear accordingly. These beads are Unisex so both men and women can wear them.
Mantra & how to wear this Rudraksha bead?
At Rudra Gems, we energize every bead through Mantras before sending them to our customers so after getting the 14 Mukhi Rudraksha, all you need to do is wear it on a Monday morning after chanting "OM NAMAH" 108 times. If you could wash the bead with milk and then ganga jal before wearing it then it will be great, if not then you can simply wear it around your neck after chanting "OM NAMAH" 108 times.
What are the precautions needed after wearing 14 Mukhi Rudraksha?
The wearer should avoid eating non-veg food, alcohol and visiting cemetery while wearing Rudraksha beads. If you have to then first remove the beads and place them in your place of worship or if you are outside then you can place them in your bag and then wear them again the next day after taking a bath. Don't consume non-veg or alcohol while wearing the beads.
You should also remove the beads every night before going to sleep and wear them again the next morning after freshening up and taking a bath.
Original, Pure and Lab Certified 14 Mukhi Rudraksha Pendant starting from just ₹2,999/-
हिंदी में पढ़ने के लिए क्लिक करें चौदा मुखी रुद्राक्ष |
Descriptions for products are taken from scripture, written and oral tradition. Products are not intended to diagnose, treat, cure, or prevent any disease or condition. We make no claim of supernatural effects. All items sold as curios only.
If you would like to share anything else regarding 14 Mukhi Rudraksha then please feel free to write in the comments section below.